If you are wondering what are the skateparks that are near me, then you are in the right post. As we all know skateboarding is one of the few sports that are actually designed for urban spaces, which may be why NYC kids love it so much. Skating uses the city environment as the stage for its tricks, but finding a safe place to skate can be tough. Skate parks provide a perfectly designed place to practice those skateboarding fakie flips and to grab some air. These spots in and near New York City are great for beginners and seasoned skateboarders alike. (Sometimes you'll also spy inline skaters or BMX bikers.)
All these skate parks put safety first. Athletes must wear helmets, kneepads and elbow pads, and kids under age 18 are also required to put on wrist guards. That said, most skate parks are unsupervised and have an enter-at-your-own-risk policy. Some even require parents to sign waivers for their children. So be safe, and enjoy the spring weather! For more outdoor sports and kid-friendly fun, see our guide to NYC's best parks and playgrounds.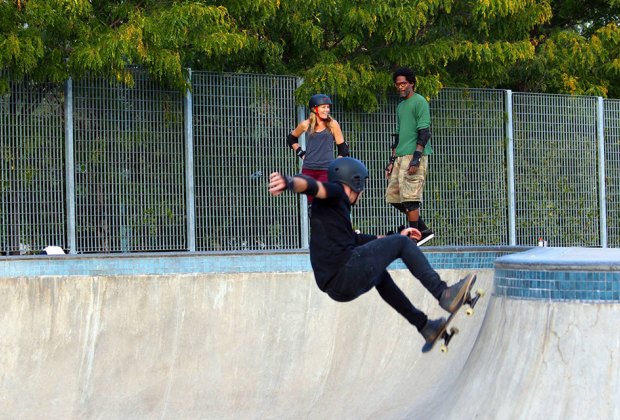 An East Coast version of California's Venice skate park, Pier 62 sits on the edge of the Hudson River in the Chelsea District. Photo courtesy of Hudson River Park
Pier 62 Skate Park (Chelsea Piers) — Chelsea
Hudson River Park at 22nd Street
Open 8am-dusk
This 15,000-square-foot skate park looks like it's sculpted into the earth, with lots of natural curves and rounded shapes. It boasts a great view right on the waterfront, and there's plenty of other things to do with kids in Chelsea, making it a wonderful destination for beginning skaters.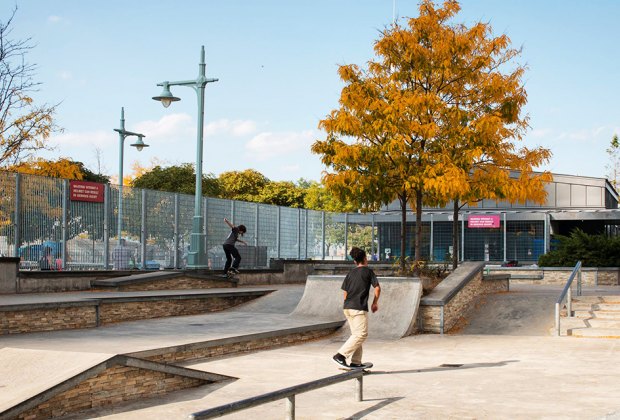 Pier 25 Skatepark is an 8,840 square foot street-style skatepark designed and built by California Skateparks. Photo courtesy of Hudson River Park
Pier 25 Skate Park — Tribeca
Hudson River Park at N Moore Street
Open 8am-dusk
Rather than the smooth rounded look of Pier 62, Pier 25 is all angles and shelves, making it better for more advanced skateboarders. And again, there are a lot of other things to do in the vicinity!
Coleman Skate Park — Chinatown
Between Monroe and Cherry Streets, and Market and Pike Streets
Open dawn-dusk
Located under the Manhattan Bridge, this urban skate park features ramps, jumps and more. A signed liability waiver is required.
Riverside Skate Park — Upper West Side
Riverside Park and 108th Street
Open Thursdays, Fridays, and Mondays from 3-7pm and Saturdays and Sundays from 12-7pm. Closed on Tuesdays and Wednesdays
Known as New York's first skate park, this skaters' mecca in Riverside Park was renovated in 2013 to include a 10-foot half pipe as well as a mini half pipe and quarter pipe. A signed liability waiver is required.
Millennium Skate Park — Bay Ridge, Brooklyn
Owl's Head Park, Colonial Road between 68th Street and Wakeman Place
Open weekends 11am-7pm
This skate park is divided into two parts: a concrete "combi-bowl" and a street course area. BMX bikes are permitted. A signed liability waiver is required.
Castle Point Skate Park — Hoboken, NJ
Sinatra Drive at 8th Street
Open dawn-dusk
Just a 15-minute ferry ride from Midtown West, this Hoboken skate park has pre-fab half pipes and quarter pipes, plus a breathtaking view of the Manhattan skyline.
River Avenue Skate Park — Concourse Village, the Bronx
River Avenue at 157th Street
Open 8am-dusk
This 10,000-square-foot concrete skate park features stairs, rails, ledges, benches, banks, gaps and transitioned elements in a plaza setting. Bikes, scooters and inline skates are also permitted. A signed liability waiver is required.
Astral Fountain Skate Park — Flushing, Queens
Flushing Meadows Corona Park
Open dawn-dusk
Pro skaters helped design this 16,000-square-foot course, which recreates popular (but illegal) NYC skating spots, including the stairs at Union Square, One Police Plaza and the Con Ed "pyramid ledges." It's located in a remote corner of the park, near the Unisphere, and opened in 2010. Bikes, scooters and inline skates are also permitted. A signed liability waiver is required.
High Bridge Skate Park — Washington Heights
West 181st Street at Amsterdam Avenue
Open dusk-dawn
This uptown park is hidden in a wooden strip, overlooking the Harlem River. It won't disappoint with a multitude of banks and ledges, rails, as well as a brick mini-bowl. A signed liability waiver is required.