While the'70s hosted some art it was the'80s that attracted the use of this deck as a medium. We chose to take a look back and decide The Best Skateboard Decks From the'80s. This is a subjective issue and your local 40-year-old fully-padded park daddy will complain about the boards that he had growing up are not on it. I am certain that they are on other's top 25 lists, however we took a look at the finest (graphically), not necessarily the most iconic. Many of these images were so far ahead of the time that they might maintain amongst the trend of emblem boards and recycled notions as designs. The'90s pushed the envelope but the culture was described by the'80s and gave something concrete to people to rally round. Hop in the Delorean and let's take you back.
Hosoi Monty Nolder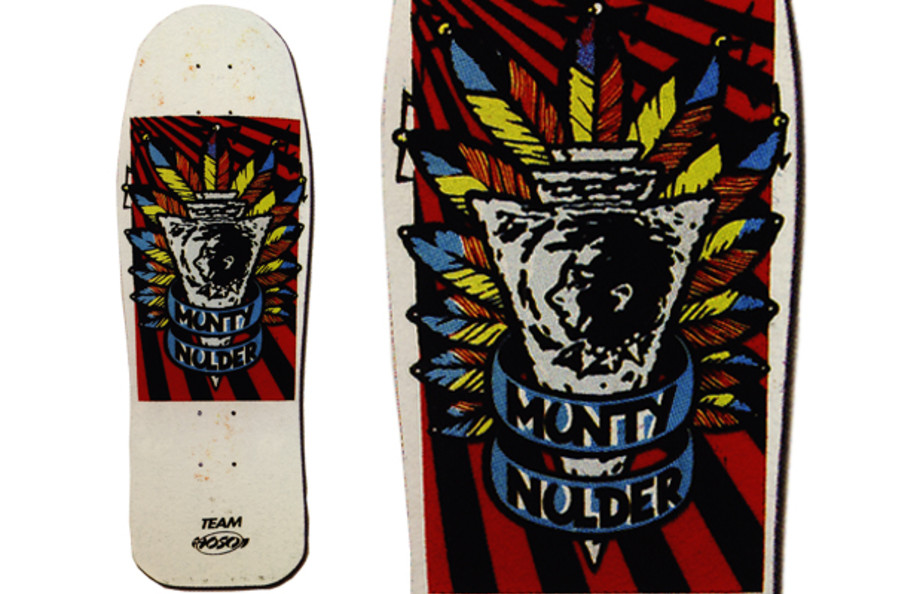 Illustrator Or Designer: Justin Forbes
Year: 1988
Skater: Monty Nolder
There was no shortage of Native American imagery in the '80s, but this arrowhead is one of the best uses, even to this day. This graphic is not typical of most Hosoi graphics too, which is a plus.
Shark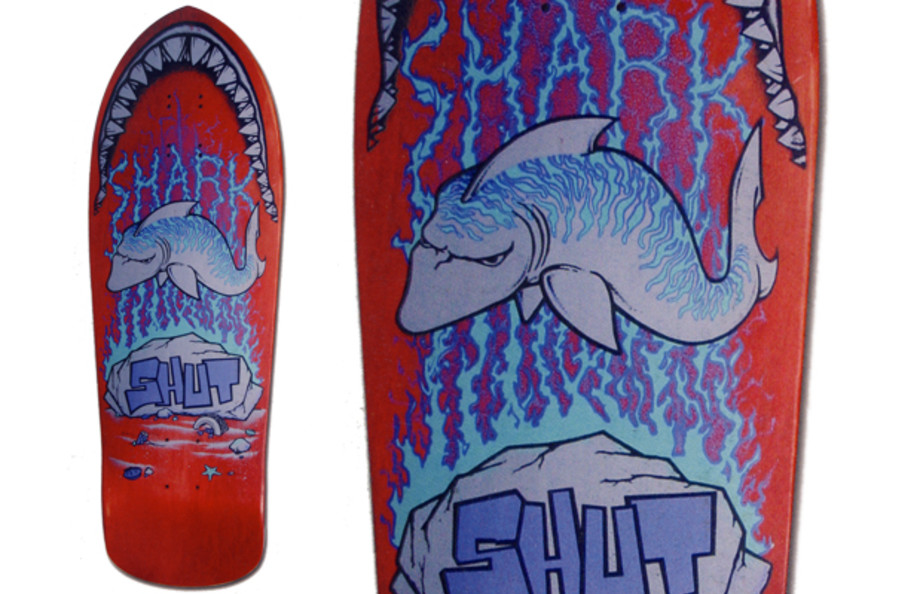 Illustrator Or Designer: Wylie Singer
Year: 1989
Skater: N/A
Somebody had to hold it down for the East Coast and that is where Shut came in. While their graphics were very graffiti influenced, it was mostly corny graffiti styling, like their Assault Vehicle, Street Posse, and Zoo York graphics, but the Shut Shark was by far their best (minus the lettering). It is a great graphic, with the perfect addition of sharks teeth bordering the nose.
Vison Tom Groholski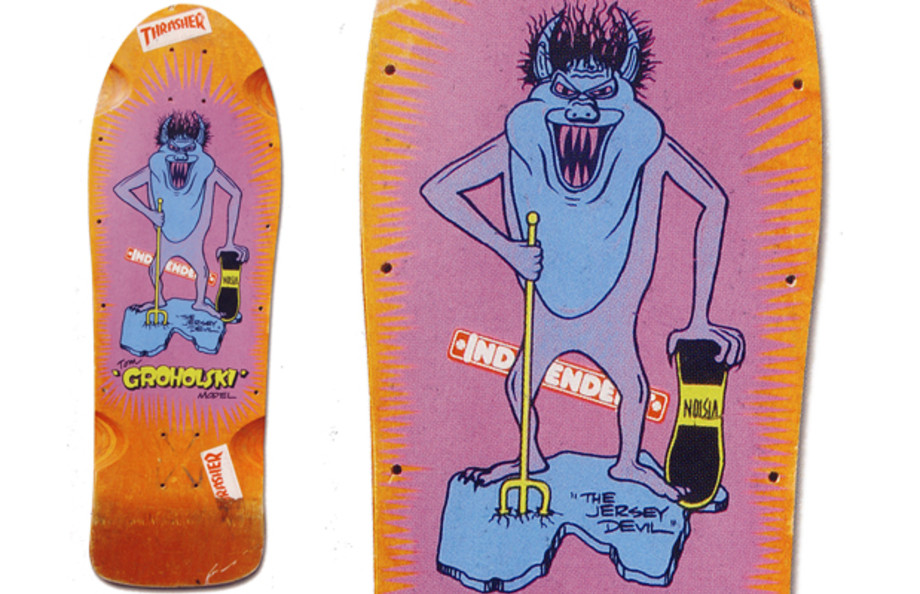 Illustrator Or Designer: Tom Groholski & Bernie Tostenson
Year: 1984
Skater: Tom Groholski
This graphic almost didn't get made because it was so badly drawn by Tom Groholski himself. And that is why we love it so much. He had to fight to get them to make it, getting them to concede with a little touching up by Tostenson. It is terribly amazing.
Notch Nose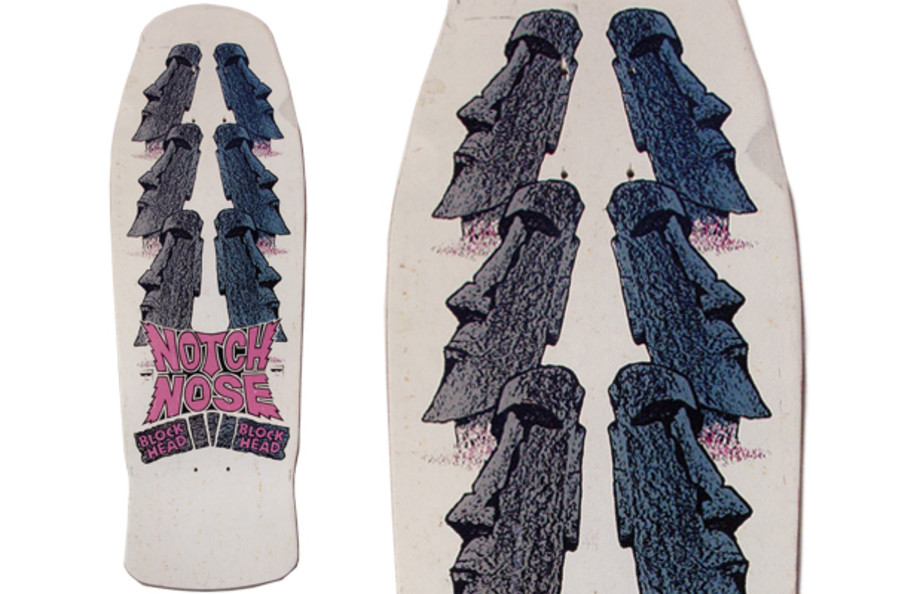 Blockhead Notch Nose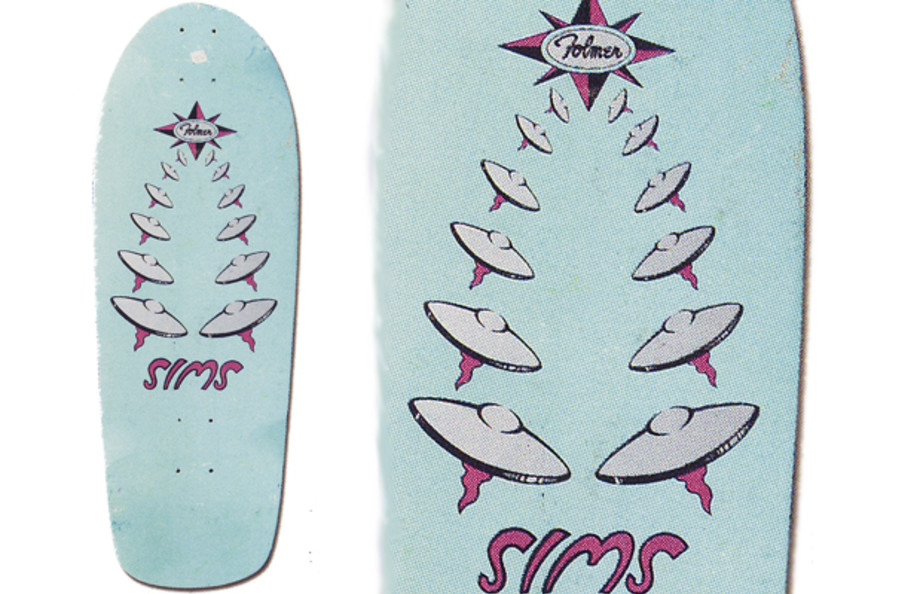 Sims Mike Folmer
Illustrator Or Designer: Unknown
Year: 1983
Skater: Mike Folmer
Simple can be the best route sometimes. In this case, a nicely balanced UFO attack. Skateboarders have always been skeptical of the ways of the world, so conspiracy theories and the extraterrestrial were always appropriate.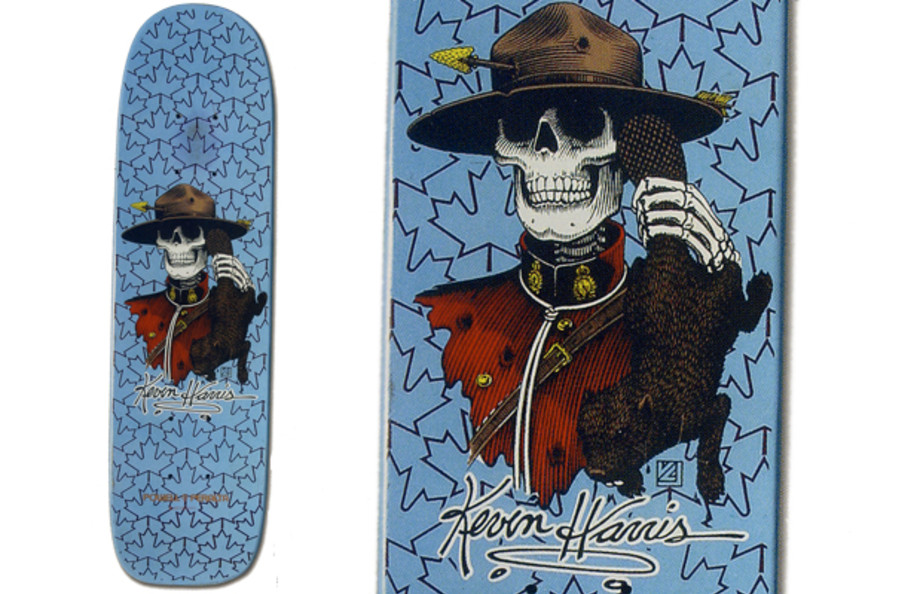 Knucklehead
Illustrator Or Designer: V. Courtlandt Johnson
Year: 1986
Skater: Kevin Harris
Here is another instance of VCJ using humor in his otherwise straightforward graphics. Again, it is through ethnic stereotypes. You can't get more Canadian than a mountie using a beaver as a telephone…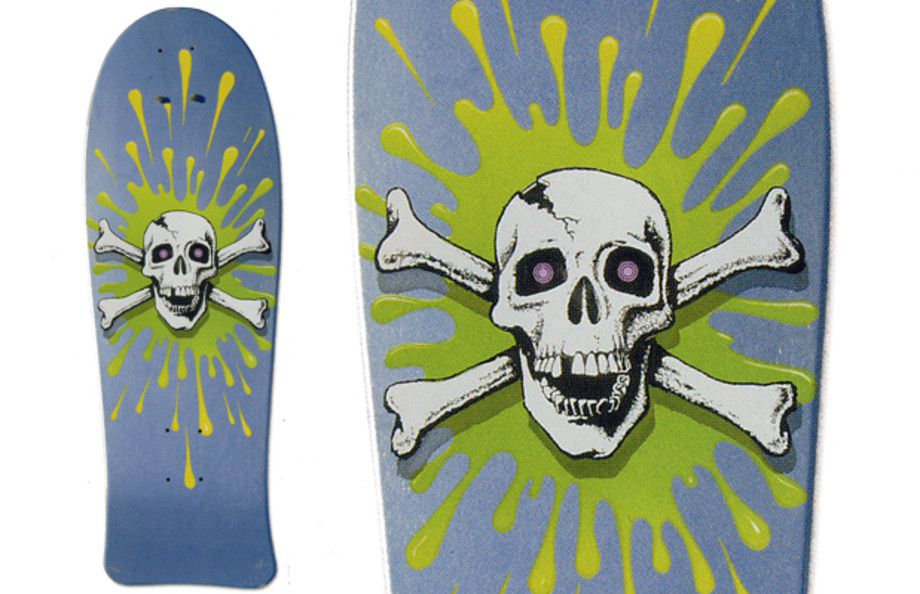 Titus Christian Seewaldt
Illustrator Or Designer: Unknown
Year: 1987
Skater: Christian Seewaldt
This is where skateboard art started leveraging pop culture. While that become much more standard in the 90s, this use of Silver Surfer doing pogos was a sign of things to come.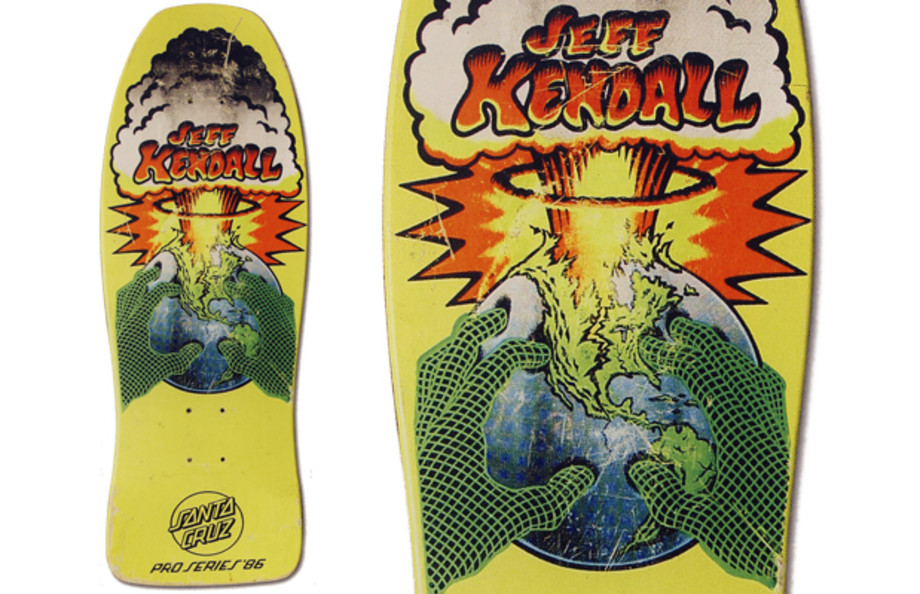 source:https://www.complex.com/sports/2012/10/the-25-best-skateboard-decks-from-the-80s/